In a remarkable display of collaboration and commitment towards sustainable energy, the government, academics, and green energy experts in Bali have successfully devised and implemented a comprehensive plan to promote green energy consumption and generation in Denpasar and Gianyar.
The hybrid event was organised by GBPN, in partnership with Center of Excellence Community Based Renewable Energy (CORE) Udayana University, and Monash University Australia & Indonesia at the end of May. It was attended by almost two hundred engineering students of Universitas Udayana, as well as around 30 online participants from around the world.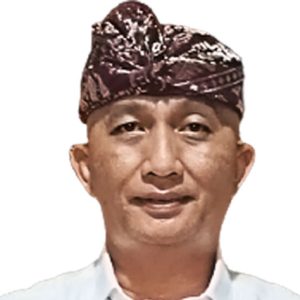 Head of Manpower and Energy and Mineral Resources Agency at the Provincial Government of Bali, Mr. Ir. Ida Bagus Setiawan, ST., M.Si. was among the special guests on the panel. He was enthusiastic in supporting Indonesia's Net Zero ambitions and expressed confidence that Denpasar and Gianyar could increase their clean energy generation and usage by 11% by 2025. This target not only demonstrates the potential of Bali but also sets an inspiring example for other provinces in Indonesia.
"The availability of energy in Bali is still dominated by unsustainable sources of energy. The government wants to start moving towards clean energy usage and generation through regulations," Mr Setiawan said.
"We appreciate GBPN and CORE Udayana's effort in planning green building roadmaps based on government regulation."
"We are ready to announce new technical guidelines for implementing green buildings in Bali Province which have already started in Denpasar City and Gianyar Regency."
The technical guidelines were developed in collaboration with GBPN and CORE Udayana University. They reflect GBPN's bottom-up approach, which focuses on subnational government leadership while also emphasizing the importance of aligning with the national government vision and regulations.
According to Dr Ery Wijaya, GBPN Indonesia Country Manager, the collaboration between government entities, academic institutions, and green energy experts will play a vital role in achieving these goals and knowledge sharing opportunities such as this event were an important element. 
"The exchange of knowledge and expertise between these stakeholders has already allowed for the development of a comprehensive strategy that encompasses various aspects of green energy, including renewable energy sources, energy efficiency measures, and sustainable infrastructure development," he said. 
"By leveraging the collective intelligence and resources of all the participating stakeholders, Bali Province have established a solid foundation for a sustainable and resilient energy future."
The success of this initiative in Bali serves as a beacon of hope for other provinces in Indonesia. It highlights the importance of inclusive, bottom up methods and collaborative approaches when striving towards sustainable energy goals. By replicating the collaborative model implemented in Bali, other provinces can harness the power of government support, academic expertise, and the active involvement of local communities to accelerate the transition towards green energy and contribute to Indonesia's overall net-zero ambitions. 
View full panel event below
(Subtitles will be added to the video in the coming days)