GBPN to collaborate with Green Building Council Indonesia
Global Buildings Performance Network (GBPN) and Green Building Council Indonesia (GBC Indonesia) have signed a memorandum of understanding to work together to support the decarbonization and contribution to sustainable development goals for the Buildings Sector in Indonesia.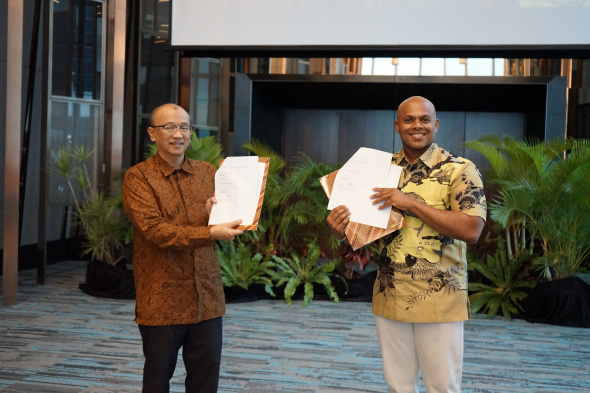 GBC Indonesia will become a GBPN Local Expert Partner in Indonesia to support sustainable building policy development, adoption and implementation in Indonesia with an emphasis on supporting local and state government entities and SME's.
During the two-year period of collaboration, the GBC Indonesia and GBPN will focus on the shared goal of decarbonizing the building sector through linking high-performance standards with the adoption, and effective implementation of building energy codes and supporting policies in Indonesia. GBPN's goal is to help the government and industry collaborate on a policy plan for decarbonizing buildings and contribute to Indonesia achieving and exceeding their climate action commitments.
Through this strategic collaboration, GBPN will also strengthen its global network of experts and provide technical assistance and advanced training to buildings sector climate policy-makers in Indonesia.
"Indonesia's construction sector is growing at 7-8% per year. Indonesia's construction market is forecast to grow by 6.6%. GBC Indonesia has a major mission to transform the paradigm of building construction players in Indonesia to be more responsible and sustainable. But Indonesia is a vast equatorial archipelago of 17,000 islands extending 5,150 kilometers (3,200 miles) east to west, the length span is similar to Western Europe with three different time zones. Imagine the amount of resources time and effort needed to conduct a decarbonizing program of Indonesian building sector throughout the nation! Therefore we are very grateful and passionate to have GBPN supporting us in this very important transformation program. We hope our cooperation will last long and provide significant outcome in policy development as well as government and society commitment towards decarbonizing Indonesian building sector," explains Iwan Prijanto, Chairperson of GBC Indonesia.
"We're thrilled to be collaborating with GBC Indonesia, an engaged and knowledgeable local expert. We're certain that this new collaboration will contribute to adoption and implementation of building energy codes and supporting policies in Indonesia which is one of the world's most rapidly urbanising regions," says Peter Graham, Executive Director of GBPN.
Related News
Related Blogs