[Report] The GBPN Compares Building Energy Efficiency Policies for New Buildings
The GBPN has researched 25 best-practice building energy efficiency codes from around the world, analysing the content of these codes in terms of best-practice elements and comparing how the implementation of these elements compares across codes. The outcome of the research entitled "A Comparative Analysis of Building Energy Efficiency Policies for New Buildings" provides the first objective criteria for comparing best practice approaches to energy efficiency building codes (residential and commercial). Through this report, the GBPN aims to assist decision-makers to understand the mechanisms behind dynamic building codes and strengthen the future design of dynamic policies taking implementation and evaluation into consideration.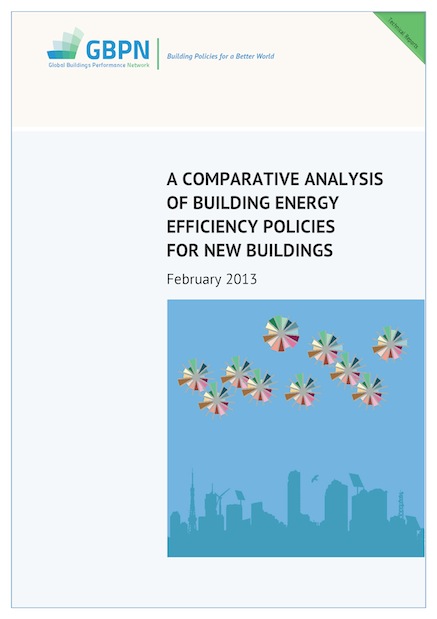 For new buildings, "mandatory energy efficiency codes are a central elements in achieving energy reduction and the related CO2 savings potential", says the report. Such codes need to be "dynamic and ambitious and to be supported by policy packages with long-term targets of achieving zero or positive energy for new construction". What are then the main elements needed to develop these ambitious and dynamic building codes and supporting packages? How best can different elements be combined to develop state of the art building codes that can help move the building stock towards zero energy? To answer these questions, the GBPN convened a panel of more than 60 world-leading experts in the field to develop criteria for best practice of building codes and policy packages.
A number of key elements have been identified in this study to define "best practice" building energy efficiency codes and supporting programmes: a holistic approach, a dynamic process in terms of regular updates and future zero energy targets, strong enforcement system and policies that support the code, technical element, and overall energy performance. Based on these five key themes, the report details a set of criteria that have been developed to facilitate the rigorous assessment of each of the codes and the supporting policies.
The results of the research were used to form an online Policy Comparative Tool that aims to promote the adoption of ambitious dynamic codes within a strong policy framework. The PCT provides interactive data visualisation of the comparisons. Users can also access detailed building codes information, search specific parameters and generate graphs and comparisons.
"A Comparative Analysis of Building Energy Efficiency Policies for New Buildings", Technical Report, GBPN, February 2013
Other Formats of this Report:
Related Report Bundles
Related Laboratory Projects
Related Blogs