On the Ground in India with Mili Majumdar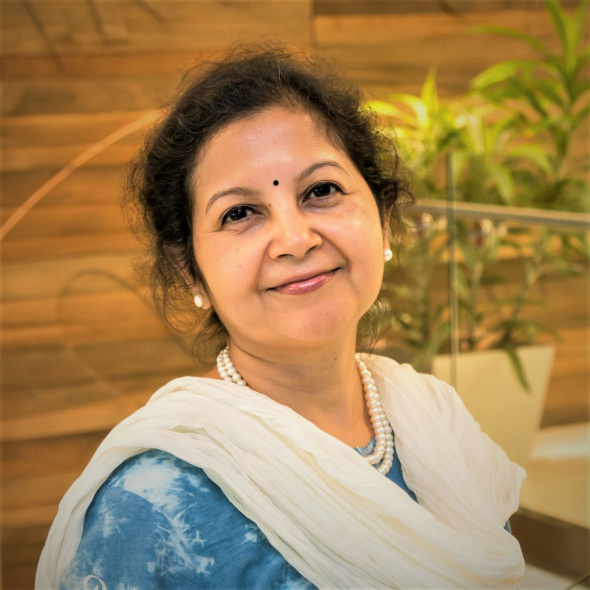 Mili Majumdar was appointed Board Member of the Global Buildings Performance Network (GBPN) in May 2019. As Managing Director of Green Business Certification Institute Pvt Ltd, India and Senior Vice President at USGBC, Mili is responsible for the technical adaptation and customization of the rating systems portfolio for GBCI in the Asia Pacific region. An architecture graduate and a building technologies specialist, Mili has more than two and a half decades of experience in energy, green buildings, climate resilient housing, city planning, urban transportation and environment, with a focus on sustainable residential developments. Find out why she calls for a "collective and concerted" way forward in the Green Building sector.
What led to your deep engagement in the Green Building sector in India?
When I started on my journey some twenty five years ago in built environments, there was little awareness of the connection between architecture or buildings and their impact on the health of the occupants, on the use of energy, and on the environment. But with my engineering frame of mind, I knew that architecture is more than art. I knew that, with the right blend of engineering techniques, architecture can be more meaningful and help save the environment. People spend 90% of their time indoors, which of course impacts their health. If we are able to provide a better indoor environment using passive, bioclimatic architectural techniques and better materials, it would certainly improve the quality of life and productivity of the occupants. I began to look for these connections and their applications in the built environment.
I started with the basics, just walking into buildings and observing. Gradually, awareness and technology evolved, and green buildings were adopted. During the same period, which is the late 1990s and early 2000s, the LEED Green Building Program came to be recognized in the U.S. LEED formalized the meaning of green buildings; it provided a framework for evaluating and recognizing green buildings and environmentally friendly constructions. And we have continued the journey since then.
Today "Green Buildings" is the most used term. But there are several others. Where do you see the trend in terminology going?
"Green Buildings" resonates well, but the term "sustainable buildings" is equally powerful. We're also talking about net zero and net positive buildings, which involve giving back more than a building uses.
What is the context of Green Buildings in India? What incentives are there?
Traditionally, buildings are green in India. Indians are frugal in their use of energy and water, because we always have a shortage. However, being a large country with an endless demand for buildings, we are required to save even more. If you look at traditional Indian architecture, you'll see that the use of passive techniques and bioclimatic forms of architecture are deeply rooted. Over the years, however, due to globalization and an indomitable urge to copy Western countries, we have shifted our focus to more inefficient forms of construction and architecture. Profuse use of materials that are not conducive to our climate seem to gain large traction. Therefore, we need to relook at the way we are currently building; to prioritize more efficient energy use, water use, material use, waste generation in buildings, and consciously take measures to avoid using scarce and depleting resources. It's also important to provide the best indoor environment for residents. With all these needs and demands, green buildings have a profound impact on the Indian construction industry.
The commercial and residential sectors have very different needs. In the commercial sector, the project owner or the company who develops the building is a direct beneficiary of green constructions, whereas in the residential sector, the developer does not directly reap the benefits of a green building, and in most cases, the beneficiary or the consumer is not aware of the long-term benefits. So, we need to incentivize green buildings, particularly in the residential sector. In many states in India, with incentive programs such as providing extra floor area ratios, tax incentives are also prevalent in both the commercial and residential sectors. This drives the uptake of green buildings. There are also multiple regulations, codes, and standards that the government has brought forward, and they are making efforts to implement them across the board. Overall the sector looks promising, but there is a long way to go.
What have been the greatest lessons learned regarding green buildings in India in recent years?
The greatest lesson learned is that the sector is diverse and disaggregated. There are multiple stakeholders, and each stakeholder has a role to play. It takes a long journey to make a big impact, but every small step benefits the sector. The sector needs a major scale-up, and it can only happen if policy makers, construction professionals, architects, and users come together in a collective and concerted way to make change. We have to keep doing our bit, and continue spreading knowledge and awareness.
As a board member of GBPN, what opportunities do you see for GBPN to support this sector in India?
There are many initiatives and multilateral organizations already operating in India. But since India is so diverse, there is space to do more. Mobilizing complementary expertise, securing funding and bringing the stakeholders together would make GBPN well-positioned to drive innovation, expand policy research and implementation measures, particularly in states such as Gujarat. I am very confident that India will be able to steer forward its aspiration to be greener and more sustainable. There is considerable knowledge and enthusiasm, we just need to push it in the right direction.
And what would you say to a recent graduate in architecture interested in working in residential construction?
I would tell them that there are a lot of opportunities to do very interesting work in green construction in India, in both the commercial and residential sectors. He or she can greatly influence design and construction with green innovations. Living spaces can be made environmentally friendly and conducive to comfort and productivity. There are a lot of opportunities in the sector, and it will keep evolving in the years to come.
Interview by Denise Silber for GBPN
Related News