Enabling private sector engagement with Eco Niwas Samhita (ENS) compliance
In 2021, GBPN ran a highly successful pilot program aimed at encouraging the use of sustainable building approaches in affordable housing projects. 
Focusing on two of India's fastest growing states, the goal of the project was to decarbonise the building sector, which is one of the biggest sources of carbon pollution and a leading cause of climate change. 
In collaboration with  Environmental Design Solutions (EDS), and Monash University Faculty of Art, Design and Architecture,  GBPN  has provided free design assistance to affordable housing projects in Gujarat and Maharashtra. The pilot aimed to support compliance with the Energy Conservation Building Code-Residential (ECBC-R), also known as Eco Niwas Samhita (ENS) with the goal of improving housing sustainability.
GBPN initially planned to help 10 housing projects in Gujarat and Maharashtra to achieve the compliance by December 2021 by adopting a combination of:
Passive architectural measures 

Use of efficient building materials.
The project delivered promising results, with 80% of participants showing an intent to improve ENS compliance in their designs. An example of the types of design changes considered is included in the image below.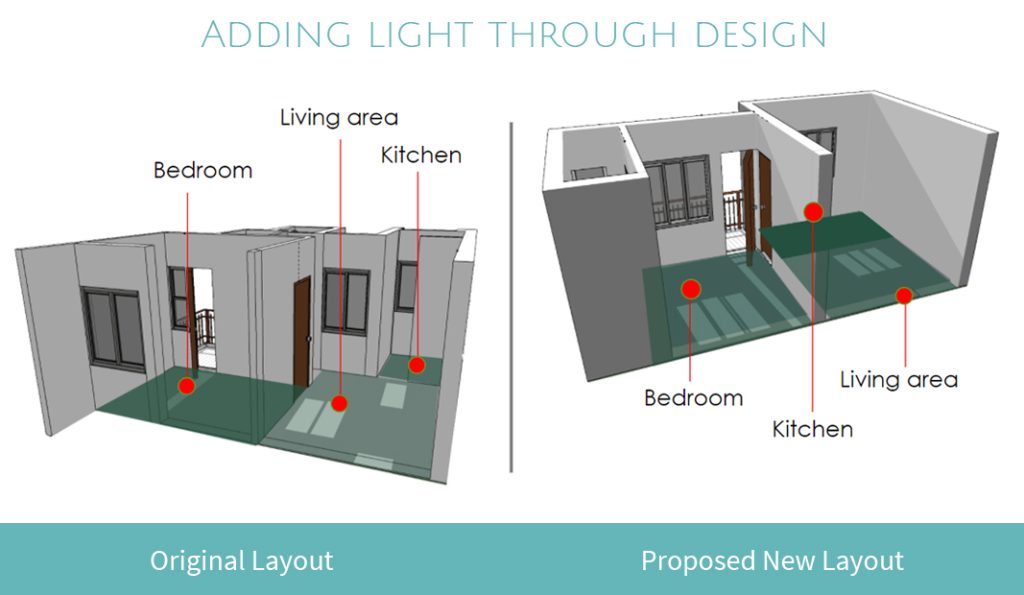 Changing the way we work with industry
The project demonstrated that it was important to think outside the box when working with the private sector, according to Gautam Nagar, GBPN's Senior Advisor, India.
"Good policy is only effective if it is possible to implement it effectively," Mr Nagar said. 
"Without the support of the private sector, it remains an idea on paper. By working closely with the sector and engaging builders and developers in the benefits of sustainable practices for their projects, we have been able to show that simple adjustments in the design stage can make a huge impact on the long term sustainability and comfort of buildings. This has been very well received by participants."
Mr Nagar said the approach to engaging the sector had focused on the evidence-based benefits of sustainable building practice as outlined in the ENS. 
"We have been able to demonstrate to the various stakeholders using our strong evidence base that these sustainable practices deliver enhanced comfort, reduced building heat loads and corresponding cooling demands and reduced energy and greenhouse gas intensity," Mr Nagar said. 
"By participating in collaborative design charrettes with the builders and developers working directly on affordable housing projects, we have been able to show where specific changes to their designs could have a positive impact on both the sustainability of the buildings and the comfort of the occupants.
"This is beneficial on many levels – not the least of which is enabling compliance with the ENS policy requirements."
Urgent need for Sustainable Affordable Housing
India is a tropical country with significant demand for space cooling for much of the year. It is also home to one of the fastest growing new building footprints in the world. 
"In the past 4 years, about 11 million houses have been approved for construction under Pradhan Mantri Awas Yojana – Urban (PMAY-U)- An Affordable Housing scheme initiated by the Central Government in 2015. This represents an unprecedented opportunity to implement building practices that will benefit the community – and the environment – for decades to come," Mr Nagar said.
"Unlike other sectors, the occupants of affordable housing do not have access to expensive air conditioning equipment for comfort cooling so they are more vulnerable to the effects of the rising temperature. 
"Integrating ENS principles into these developments can transform the market towards more affordable and more energy efficient and comfortable homes."
The private Sector as a catalyst for Market Transformation
The affordable housing sector is growing rapidly, and the residential sector energy efficiency market has a great potential to take off in India. 
"We can see the opportunity is there but the challenges faced by most affordable housing developers are centred around cost and lack of organisational capacity for incorporation of energy efficiency measures," Mr Nagar said. 
"GBPN's program aims to provide technical assistance to developers to support them in meeting their requirements under the ENS and also to overcome resistance towards uptake of energy efficiency in the affordable housing sector."
Design Charrettes
The program methodology involved hosting Design Charrettes to engage all project stakeholders in a collaborative process on one platform. 
According to Dr Peter Graham, Executive Director of GBPN and Associate Professor at Monash University MADA, the objective was  to create realistic and achievable designs that would practically work to transition from conventional practices to a more sustainable approach. 
"The gap between a Conventional Design and an ENS Compliant Design is relatively small but the impact on carbon emissions in the long term can be significant," Dr Graham said. 
"Design Charrettes provided an opportunity for GBPN to educate the developers in how to bridge that gap through a series of steps such as Data Collection, Analysis and Evaluation. 
"Designs were evaluated for compliance at two stages. The design options were presented and developers' decisions are documented in the form of a Compliance Report. All ten targeted  Design Charrettes had been documented by the end of December 2021."
Mr Nagar said most of the developers had promisingly responded to the design charrettes in Phase I of the program. He called for developers interested in participating in the program to register their interest.
Phase 2, slated to roll out in 2022, aims to include: 
Institutional capacity building for developers enabling green and affordable housing to be mainstreamed; 

Preparation of a Framework for ENS Compliance in the Affordable Housing Sector, which can ease the developers' Implementation process of ENS Compliant Design. 
The project has demonstrated effectiveness in raising awareness of the importance of sustainable building design among developers. This will enable scaling up of adoption of ECBC-R in the Affordable Housing sector across India, which paves way towards decarbonisation of the residential sector.